Hotel's location
* on the Westbank of the Nile in Luxor - on the
river side village of Gezira El Bairat
* peaceful situated close to green farmland
and palm trees
* close by the most ancient sites of Luxor
* three minutes walk from the ferry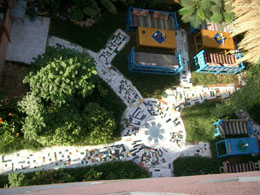 How to get to the hotel ?

Cross the Nile by local ferry or small motorboat (departure point opposite Luxor Temple). On the Westbank follow the main road. At the mosque turn to the left and this side road will take you straight to our hotel (see also the El Fayrouz Hotel sign closed to mosque). A very warm welcome will await you as soon you enter the hotel.

We are looking forward to welcome you at the Elfayrouz Hotel.